¡La banda de Nagoya Kei UNDER FALL JUSTICE lanzará una nueva colección de videos musicales!.
"Seishin no soko ni aru itami to sukui" será un DVD limitado, el cual estará disponible en la tienda en línea a partir del 12 de agosto de 2020. Contendrá 6 videoclips, incluyendo los videos inéditos de Akai nikkichou y Setsubou. También se venderá en un paquete especial que incluye otros artículos exclusivos.
Ha pasado un año desde el lanzamiento de su primera colección de videos "Harisenbon nome". Excluyendo Setsubou, este nuevo DVD recopila videoclips de canciones provenientes de los mini-álbumes "Sonzai shoumei" y "Boku igai ni nani ga iru?", así como de su último sencillo "Koutei".
UNDER FALL JUSTICE celebró recientemente su sexto aniversario con un concierto el 24 de julio en el Imaike GROW, manteniendo sana distancia y capacidad reducida, en su natal Nagoya.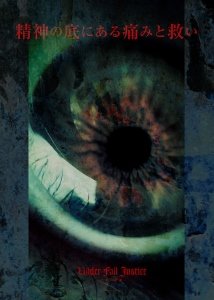 UNDER FALL JUSTICE
Seishin no soko ni aru itami to sukui
[精神の底にある痛みと救い]
DVD
01. Sonzai shoumei [存在証明]
02. Boku igai ni nani ga iru? [僕以外に何がいる?]
03. Korosareta (Airo Maeda) [ 殺された(前田 愛郎)]
04. Koutei [肯定]
05. Akai nikkichou [赤い日記帳]
06. Setsubou [切望]
UNDER FALL JUSTICE es una banda japonesa de heavy rock / visual kei, la cual se ha convertido en una referencia obligatoria en la escena underground de Nagoya. La banda explora el lado oscuro de la humanidad, con canciones llenas de dolor y angustia existencial. Su sonido distintivo combina ritmos acelerados, acordes de sintetizador y guitarras distorsionadas; mientras que la voz peculiar y los desgarradores gritos de Airo evocan una profunda desesperación. Las canciones depresivas con ritmos lentos también tienen un papel importante en el repertorio de la banda. ¡Sus eufóricas presentaciones y estética impactante son algo digno de ver!
Alineación
Airo Maeda – Vocal
Syoma Hayase – Guitarra
Akito Sugino – Bajo
Jin Ikezumi – Batería
---
Compra CDs y mercancía de UNDER FALL JUSTICE